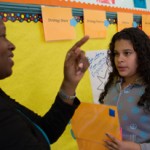 pdf: What is NUA?
It's a given that students and teachers do not always come from the same racial or cultural backgrounds. This is especially true in urban areas, where the majority of students are of color. These differences can cause teachers to devalue the backgrounds and experiences of their students or to ignore the impact of these differences on the learning process. NUA's focus is on changing teachers' perceptions and expectations of underachieving students in a way that pays particular attention to the cultural dimensions of these differences.
Teachers in urban schools sometimes believe—either consciously or unconsciously–that their students are deficient and that their underachievement is the result of limited potential. When we talk about people having undeveloped muscles or physiques, we say they're "out of shape." We don't say they're "deficient." In our work, we focus on the idea that the brain is like a muscle; it requires specific exercises, guided personal training, and relevant and meaningful instruction to build competence and prevent dysfunction.
We know that far too many students of color have given up on waiting for the chance to demonstrate their creativity and intellect. We can re-energize these students by acknowledging that teachers often simply do not feel qualified to bridge gaps in experience and background in ways that draw out students' strengths, make connections with them, and maximize their potential. This doesn't mean that these teachers are "bad" or can't succeed with some students, but instead that they need new strategies and ways of thinking.
We believe that when teachers are provided with the tools and techniques to help them bridge the cultural divides that can get in the way of learning and literacy, students can demonstrate their creativity and knowledge. In turn, their performance changes the expectations of the teachers.
NUA pays particular attention to developing materials and strategies that attack the issue of cultural relevance head on. Specifically, the NUA approach aims to:
Help prepare teachers who feel unprepared to meet the needs of students of color or economically disadvantaged students. Classroom relationships are especially challenging for many of these teachers. Not knowing what is meaningful and relevant to students and misunderstanding reasons for their underperformance intensifies these challenges. NUA's specialized approach gives teachers the information they need to feel confident with students from varying circumstances.
Give teachers strategies for connecting teaching to students' lives. This helps students achieve in class and, just as importantly, builds their confidence.
pdf: What is NUA?
Contact us to learn how you can bring NUA to your district.