WE MUST SAY NO TO THE STATUS QUO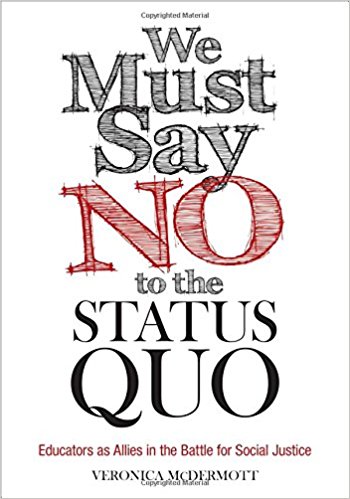 It takes more than good intentions to make meaningful change. The "spirit slashing" of injustice: that's what Veronica McDermott calls the psychic toll that marginalized students face every day. Students can be marginalized because of race, economic status, language, sexual orientation, ability, or other factors. So how can you make a difference? McDermott, a longtime educator, gives you the tools to become a powerful ally. Click here to buy the We Must Say No to the Status Quo from Amazon.
THE PEDAGOGY OF CONFIDENCE In her book, Yvette Jackson, NUA CEO, shows educators how to focus on students' strengths to inspire learning and high intellectual performance. Jackson asserts that the myth that the route to increasing achievement by focusing on weaknesses (promoted by policies such as NCLB) has blinded us to the strengths and intellectual potential of urban students—devaluing the motivation, initiative, and confidence of dedicated educators to search for and optimize this potential. The Pedagogy of Confidence dispels this myth and provides practical approaches to rekindle educators' belief in their ability to inspire the vast capacity of their urban students. Click here to buy the Pedagogy of Confidence from Amazon.
AIM HIGH, ACHIEVE MORE: HOW TO TRANSFORM URBAN SCHOOLS THROUGH FEARLESS LEADERSHIP Many urban educators live in fear: of their schools being labeled failures, of increasingly punitive sanctions, of loss of respect and livelihood. This fear pervades the entire school community, affecting the physical, mental, and emotional well-being of its members.The authors of this guide to transformation in urban schools, Yvette Jackson and Veronica McDermott,  are convinced that the key ingredient for school renewal is fearless leadership. Fearless leaders work in schools under-resourced and overburdened and serve disproportionately large numbers of children who live in poverty and face racism daily. They are ordinary educators committed to proving that demographics need not be destiny. Click here to buy Aim High, Achieve More: How to Transform Urban Schools Through Fearless Leadership from Amazon
Previous Featured Books
(Click on the title to buy through Amazon.)