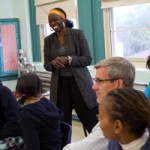 In far too many districts, professional development misses the mark – even if it follows the research. Sadly, what teachers need to improve their craft is rarely what they receive from professional development. Too often teachers have little or no input in determining what professional development they need, who delivers it and when they get it. And much of what passes for professional development is attached to textbook adoptions, mandates or scripted programs that promise results that are rarely delivered.
But what happens when one teacher's challenge is classroom management, while another's content knowledge? And perhaps is lacking the pedagogy to deliver concepts in ways that students will find relevant to their hopes and lives? These are very different needs and professional development often fails to make these distinctions.
NUA helps districts provide school leaders and teachers with the opportunity, guidance and voice to identify what practices they need that will help them build on student strengths and engage them in learning essential skills, content and strategies.
Today, far too many students sit in classrooms just waiting for opportunities that will elicit and nurture their attention, creativity and intellectual potential. Teachers are the spark they need. But teachers need their own spark. NUA assists districts in providing meaningful professional development that can ignite that spark.
The NUA Professional Development model follows these building blocks:
NUA starts by listening. Through surveys or discussion groups, NUA takes time to find out what kind of professional development teachers say they need.
NUA provides teachers with guidance about what nurtures students' intellectual development and affects the learning process. Armed with this understanding, teachers are more articulate about the type of professional development that could address the learning needs of the students.
NUA gives teachers strategies that elicit students' strengths and interests while connecting learning directly with their experiences. These strategies are best learned by having students model and demonstrate class instruction to their teachers with coaching from NUA mentors. NUA mentors also provide on‐site guidance to teachers in each participating school on best instructional practices, and guide teachers in implementing best practices in their classrooms.
NUA shares strategies with teachers to help them connect learning with the lives of their students. This helps students understand concepts and other classroom material and, just as importantly, allows them to demonstrate understanding and build their confidence.
NUA includes students in professional development sessions. Students often have a remarkable sensitivity to what interests their classmates, how to make them attentive and how to motivate them. They also have the ability to get their classmates' attention when they are in charge of the classroom. That's just one reason why we include them in professional development sessions. For example, we have let students lead professional development sessions for as many as 35 adults. The result was an incisive and intellectually stimulating presentation on culturally relevant teaching methods. One outcome from this session was that students from this majority African-American school wanted teachers to stop calling them minority students or students who are "at risk." That's not how they thought about themselves. They felt that projecting those labels on them reinforces negative stereotypes and, potentially, low expectations. Students are also astute at pointing out concepts and terms that simply won't resonate with other students and potentially will derail a classroom.
NUA helps districts and schools provide greater leadership. Too few principals are adequately involved in professional development, and the result is a gap between leadership, support and lasting momentum. NUA works closely with principals to assure their buy-in and assist in providing the kind of leadership that is needed in schools.
Perhaps most importantly, NUA helps districts design professional development that is part of long-term learning objectives that are embedded in curriculum, rather than one-shot workshops where an expert swoops in for the day. We work closely with districts and teachers—engaging students in the process—to set high expectations and develop strategies and accountability measures to meet these expectations.
Contact us to learn how you can bring NUA to your district.