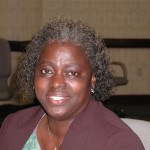 Nell Collier, M.S. was born in Montego Bay, Jamaica West Indies. She has been an educator since 1967. Her areas of interest are visual arts, reading, math and information media & technology. She retired from Minneapolis Public Schools as a principal in June, 2005 after 39 years of services. She continues to serve the Minneapolis Public Schools as a substitute principal.
Ms. Collier is an educational consultant and coordinated a supplemental educational service program through the Center for Excellence in Urban Teaching at Hamline University's Graduate School of Education in St. Paul Minnesota from September, 2006 through June, 2008. Ms Collier's passion is excellence in academic achievement and success for urban students. As a result, she has conducted and continues to be interested in professional development for pre-service as well as in-service educators. She is a co-founder and director of Friendship Community Services, Inc., Eager to Learn Tutoring Program (FCS-E2L) in Minneapolis, Minnesota, since June, 2008.
Ms. Collier received her undergraduate degree from the University of Minnesota and a Master's of Science in Information Media & Technology from Minnesota State University, Mankato, MN. She is a member of NAESP, ASCD, and NABSE. She is married to Ronald and resides in Mendota Heights, Minnesota. They have three grown sons, one daughter-in-law and a granddaughter. Her family is very important to her.
A favorite quote that expresses her fundamental belief is one NUA uses, written by Marian Wright Edelman: "Education is for improving the lives of others and for leaving your community and world better than you found it."
Nell Collier
nell.collier@mpls.k12.mn.us