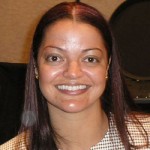 Camile Earle-Dennis still remembers the first students she mentored in Newark, New Jersey, during her junior year of college. Although she originally attended Drew University to become a therapist, she began mentoring with the Ready Foundation and 10,000 Mentors. She enjoyed working with students so much that it inspired her to pursue a career in education.
In 2005, she won the prestigious Milken Family Foundation Educator Award for her work at Barringer High School in Newark, New Jersey.
"The state recognized a positive shift and a huge increase in test scores and an increase in community involvement and they wanted to know why," Earle-Dennis said. "It was because we made a shift from focusing on deficiencies to focusing on strengths and relationships – all beliefs of NUA."
"The students in Newark were considered uneducable," she said. "Utilizing NUA's principles, strategies and techniques, I saw a transformation. Through constant affirmation, we were able to help students see in themselves what we saw in them: limitless potential. We challenged students and teachers beyond their expectations and demanded more because all children and teachers are capable of high intellectual performances.
She says her mentoring style is based on relationships and guiding students and professionals to a point of fearlessness. That is, fearlessness that is required for peak performances. She quotes Ben Comer, "Without relationships, no significant learning can take place." Her key for success is creating relationships with students by learning about their past educational experiences, their fears, their perceived limits and the limits that other teachers and society have put on them.
She even applies NUA's core beliefs to her work in training and amplifying performances in consultants, teachers, as well as business and district leaders in the educational and financial services fields. "NUA is not a program, it is a way of thinking that works in all topics and areas, even financial services," she said. "Everywhere I go, I apply the core principles of NUA, and when I do that, there is an increase in performance and production."
Camile currently holds two Bachelor of Arts degrees in Behavioral Science and Pan-African Studies. She also has a Master of Arts in Teaching with Specializations in Reading and Instructional Leadership and is currently working towards a Doctorate in Education.
Camile Earle-Dennis, M.A.