PLEASE JOIN US FOR AN EVENING WITH YVETTE JACKSON, Ed.D.
 
TUESDAY, MARCH 13, 2012 6:00pm – 8:00pm
 
1140 Broadway, 6th Floor, New York, NY
 
Kindly RSVP Here
 
Please join us in celebrating The Pedagogy of Confidence: Inspiring High Intellectual Performance in Urban Schools, the new book by Dr. Yvette Jackson, CEO of the National Urban Alliance and former Executive Director of Instruction and Professional Development for the New York City Public Schools.
 
Yvette's strengths-based approach inspires accelerated learning and high intellectual performances from urban students.  It counters the policies that have blinded us from their vast potential. She has integrated the findings of cognitive psychology and neuroscience research with her years of experience as an educational leader to substantiate the practices which have led to extraordinary success in classrooms serving low-income and underachieving students across the country.
 
Yvette's book has been nominated for the Prose Award and has been referred to by internationally recognized leaders as the "Rosetta Stone of Urban Education" and the book that "should be read by every educator and policymaker truly interested in closing the achievement gap.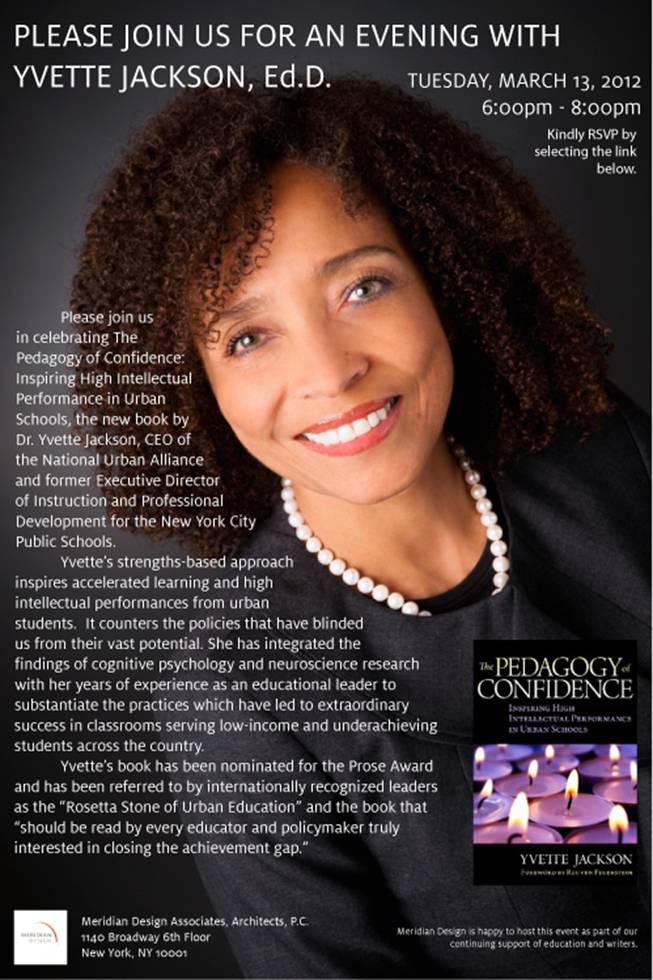 RSVP Here